Before planning the outlay for your outdoor or indoor swimming pool, the first thing that comes to mind is its shape and size. There are many different types of swimming pools, out of which the most amazing type is "Classic swimming pools". Classic pools are also known as "Roman-end pools", "geometric pools" or "formal pools" and are perfect for your classical yards. Classic pools, usually called Roman and Grecian pools, come in variated shapes of a rectangle with "cut off" corners. These pools have the touch of ancient Romans that attracts the viewers most fascinatingly. Although the people who choose to have classic pools do not know much about the history of the ancient Romans, their hearts attract only towards the beauty of these captivating pools. The ancient Romans influenced the idea of modern swimming pools and are famous as the pioneers of pool designing.
Basic design concept
The architecture of "Classic swimming pools" has the footing of a classical theme. It has a deep link with Roman and Grecian concepts by having more turns in a pool. The innovation in rectangular pools with Roman style leads to classic swimming pools. The elegance and classic look of these swimming pools are a combination of excellent aesthetic view with the simplicity of the design. The designs of "classic swimming pools" add beauty to not only your backyards but also to your indoors.
Classic swimming pools shape
The shape of classical swimming pools is made by the combinations of modifications in the angles and radius of the rectangle pool. Their shape styles the pool in a very elegant and simple way. Classic swimming pools include Grecian-shaped swimming pools and Roman-shaped swimming pools. Although Grecian pools are less famous than Roman pools, they both decrease a square foot of the usable space of the pool. Both types are designed by making innovations in the ancient swimming pools.
Grecian-shaped swimming pools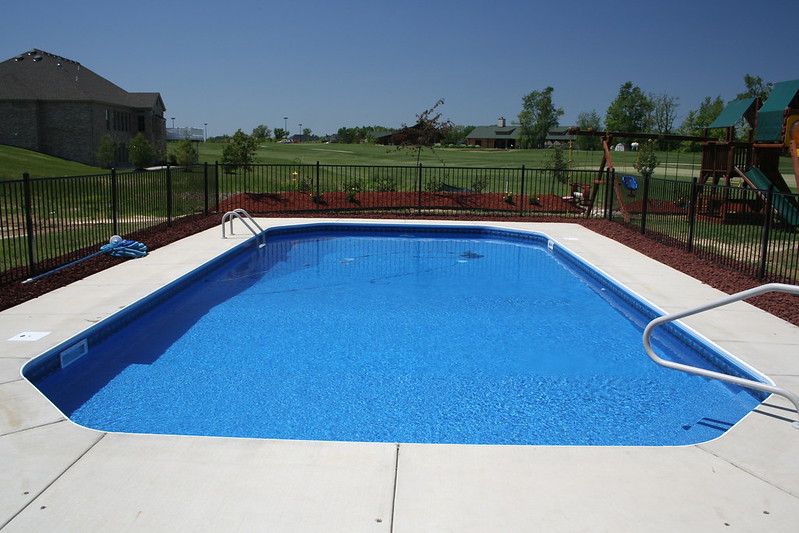 The shape of Grecian swimming pools is rectangular whose corners are cut-off to give it a classical appearance.
Roman-shaped swimming pools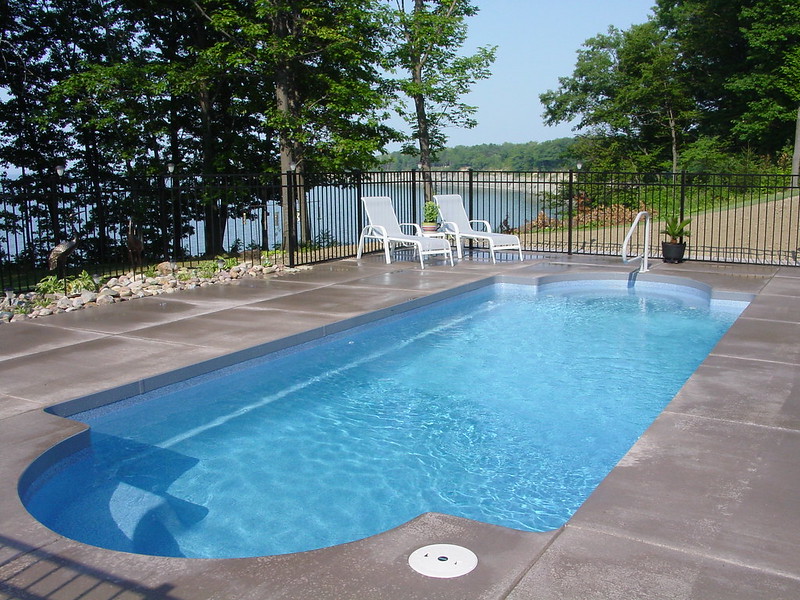 The Roman-shaped pools have the specification of sharp edges, minimum of one semi-circle edge. It has cut-off corners too with a rectangular shape that defines its classical design. The shape of Roman swimming pools is rectangular, having a slight curve or arch on one or both corners. If only one side of the pool has a curve, then it is called "Single Roman". Whereas "Double Roman" has both of its ends curved. The edges of the pool are semi-circle or round, known as "Roman pool-end", which gives an appealing view.
The Roman classic swimming pools have separate spaces for steps. In addition, they also have multiple paths for entering and exiting the pool. The add-on of a tanning ledge and seats gives a classy look to your pool area. The pool's geometry consists of straight lines with an architectural outline. The steps present at the shallow end in the semi-circular region and the grand entrances of the pool give a classical view. In case of a limited area, you can make only one end of the pool rounded to get a" Half Roman pool".
Specifications and styling of classical swimming pools
The classic swimming pools of Roman-style provide a luxurious environment as the architecture of Roman baths is famous in the whole world for years. You can feel comfortable in your classical swimming pool that makes your leisure pleasurable. There are many specifications to add to your classic swimming pool. You can obtain a symmetrical balance, can select materials for building a pool of your choice, materials for decoration, textiles, etc. You can style your swimming pool classically as it provides much flexibility to give your pool a modern and traditional blend.
Roman/Grecian pools are a perfect balance of symmetrical geometry with variated angles. The lines are distinct with finished semi-circle or round ends that beautifully style your pool.
Material selection of tiles is equally important to style your pool classically. To provide a Roman architectural look, you can choose marble, travertine, limestone, natural stone, or stamped concrete of modern style for decking. You can also skip decking and add grass near the pool to make your pool more prominent like a palace.
To give a more classical appearance to your swimming pool, a spa can be an add-on. If you are satisfied with your Roman and Grecian design then maybe spa can disturb the overall shape but you can add a spa in "half classical pools" or as you like. The addition of a spa makes you feel relaxing in the calm and quiet environment whenever you sit here. The water flowing into the swimming pool from the spa gives a modern aesthetic look. In addition, you can include fountains that will keep the water fresh and clean. They can also enhance the palatial elegance that helps to achieve the goal of a classic swimming pool.
Addition of decoration pieces
For your classic swimming pool, you can add decoration pieces like statues, pedestals, and columns that recall Roman architecture and old Greek. Maybe they will look a little odd in a pool area with a small landscape but these additions are perfect for the swimming pools of those houses which are built in neoclassical style. You can use these decorations blended with rustic settings which will increase the integral beauty of your yard.
Summary
In this article, we have briefly discussed the concept of designing classic swimming pools. These pools are famous for centuries due to their unique and classical style. These swimming pools can be indoor or outdoor and can give you a feeling of a resort. Moreover, it makes your leisure hours calm and soothing either it's morning, evening, or afternoon with its sophisticated design and style. Even if you are not swimming, you can still relax and enjoy the sight of the pool's classy look. You can tailor changes in your classic swimming pools and make it a Mediterranean flair by adding tiles, fragrance, colors, and different trees. Undoubtedly, classic swimming pools with Roman and Grecian architecture give a panoramic view to your backyards.